FINDING 'SOLIS' TRACTORS WITH NORTH EAST GARDEN MACHINERY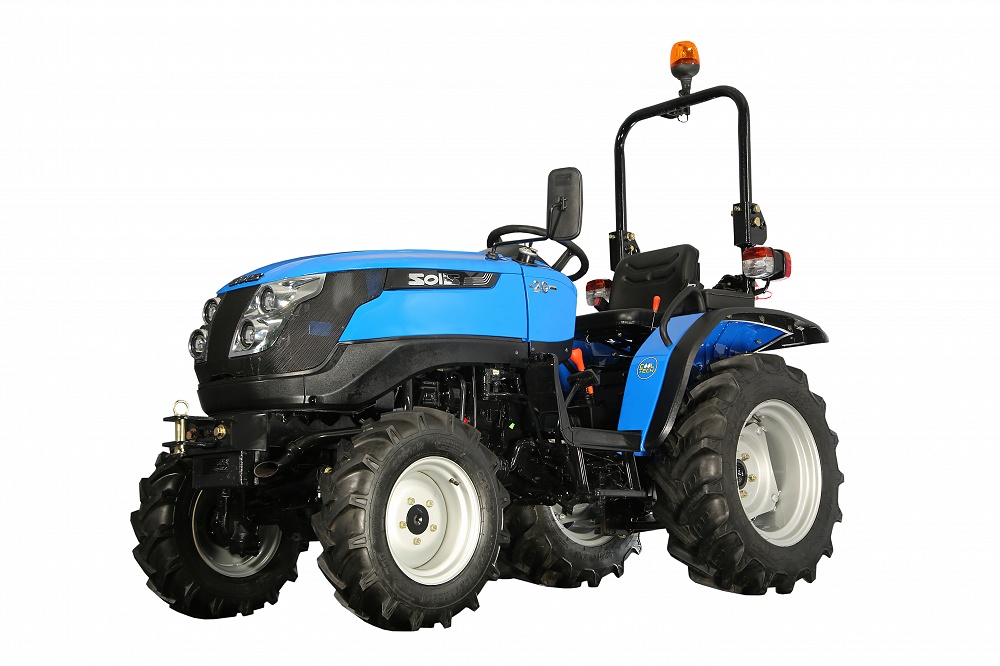 FINDING 'SOLIS' TRACTORS WITH NORTH EAST GARDEN MACHINERY
North East Garden Machinery are now the new Solis tractor dealers for the north east. With new stock arriving daily contact us to discuss your requirements.
We sell a large selection of attachments to compliment these brilliant compact tractors. Backed up by a 3 year warranty and our workshop facilities offering servicing, repair and spare parts we've got you covered.
Call us on 0191 5269209 or email sales@negm.co.uk
Sales
We sell new and used machinery from a wide range of manufacturers feel free to give us a call to discuss your requirements.
Solis Tractors
Built by International Tractors in India these brilliant compact tractors offer excellent value for money at a fraction of the cost of other more mainstream brands. Backed up by a 3 year warranty and optional extras such as loaders, tyre type and transmission options such as manual, shuttle and hydrostatic, Solis are becoming firm favourite for our Equestrian, Contracting and farming customers.
Our 26hp models are proving to be very popular. Powered by a 3 cylinder Mitsubishi diesel engine and prices starting from £8495 plus Vat why not take advantage of our part exchange and finance options and upgrade to a new machine today.
Workshop
Offering service and repair work to all petrol and diesel machinery ranging from hedge trimmers to fairway mowers. We can collect your equipment and return it to you once repaired or carry out the work at your location.
New for 2022 we will be offering a cylinder and bottom blade grinding service.
Parts
Need spare parts? We can supply parts for most makes and models of machinery ranging from spark plugs to tractor panels and glass give us call for a competitive price.
Call us on 0191 5269209 or email sales@negm.co.uk
Posted: 09/12/2021
COMVEX GROUP APPOINTED AS EXCLUSIVE FARMTRAC DISTRIBUTOR FOR THE NORTH EAST, YORKSHIRE AND SCOTTISH BORDER REGIONS
North East based Comvex Group have officially unveiled an exciting and innovative new partnership with Reesink Agriculture. The new partnership will see Comvex Compact Tractors, which is part of the Comvex Group hold exclusive distribution rights across the North East, Yorkshire and Scottish Borders to supply a portfolio of robust and flexible diesel Farmtrac tractors, in addition to the all Electric Zero-Emission compact 25G, the first of its kind in the UK.
Whether in the farming and agricultural industry, landscape improvement and development, groundworks maintenance residential or commercial, small holding management or the upkeep of livestock on a farm, from the compact Farmtrac Atom Series stocking the full Farmtrac range from 22 – 75HP models there is a Farmtrac tractor to meet your needs and all come with a five year warranty as standard.
Award winning, Farmtrac Tractors are a brand growing in reputation for their simplicity, reliability, robustness, durability, and flexibility to be more than fit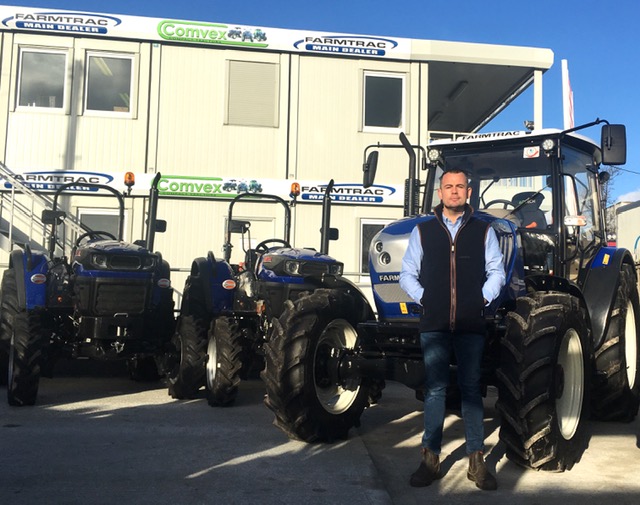 for purpose on all tasks required of them. A Comprehensive range of tractor and compact tractor attachments and general ground care machinery are also available, from tipping trailers to field rollers offering complete versatility to any task a compact tractor needs to undertake.
Darren Ord Jnr, Managing Director of the Comvex Group, a family run business with over35 years' experience in the industry said:
"We are delighted to have further diversified our stock portfolio and secured the exclusive distribution rights for Farmtrac products with Reesink Agriculture, in particular the 25G. The all-electric tractor delivers impressive performance, great value and no emissions.
This innovative piece of kit is very versatile to a range of uses and is ideal for those who own or manage a sizeable acreage of ground for example an equestrian centre, an orchard, a golf course, stately home, country house, industrial grounds, garden centre or nursery, sports pavilion, or even a large garden."
The innovative all- electric tractor from leading global tractor producer, Farmtrac was launched at Lamma in 2020 by Reesink Agriculture, Farmtrac's UK distributor. The zero emissions 4x4 electric tractor, which featured on BBC Countryfile is the first of its kind in the country and is a significant development in agricultural engineering.
To complement the new Farmtrac tractor range, the Comvex Group have also launched their new compact tractor and small plant repair specialist workshop in the region. The experienced and skilled mechanics will undertake all repairs and servicing on all makes and models ensuring equipment is well maintained.
To find out more about the benefits of a Farmtrac Tractor, check out the website: www.machinerydealer.co.uk or contact the sales team on 0191 548 2828 or email info@machinerydealer.co.uk
Posted: 15/04/2021
**WARNING TO M4G USERS RE SCAM**
WARNING - Please be aware that there are some scam artists currently targeting users of M4G.
In particular someone using the names LARRY CLARKE and DAVID MORGAN offers to buy your machine. He sends you a cheque for the cost of the machine plus some more to cover transport etc.
He asks you to refund the difference by which time his cheque has bounced.
This is a scam very popular with Nigerian fraudsters although other groups have also latched onto the theme.
Please do not entertain offers from LARRY CLARKE / DAVID MORGAN or anyone offering to send you more than your machine is advertised for.
The old adage of "if it looks too good to be true then it probably is" applies in this case.
As per our Terms & Conditions Machinery4Golf and the parent company GRN-OGRO are not liable if you fall victim to this fraud. Please exercise caution at all times.
Happy advertising and best wishes
Tony
Posted: 31/10/2018
New mower makes its mark at The Point
New mower makes its mark at The Point
John Deere's south-west England turf dealership Masons Kings sold the first 2750E hybrid electric triplex mower in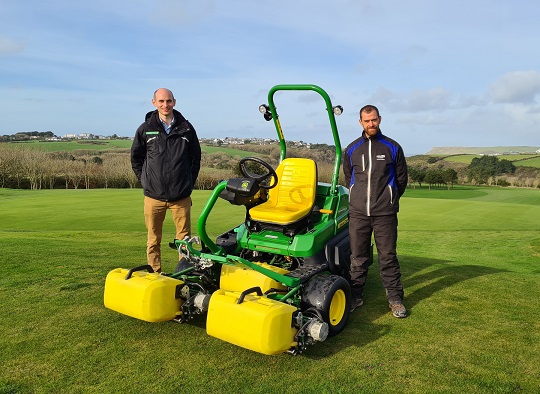 the area to The Point at Polzeath resort in north Cornwall, with the golf course's head greenkeeper Tom Collings calling it "... just the mower I wanted".
The 18 hole golf course sits just above the Camel Estuary with stunning views out over Hayle Bay and Pentire Point, and was England Golf's GolfMark 'Club of the Year' winner in 2017. The club was bought out of liquidation in 2012 by husband and wife team Jeremy Davies and his wife Eva, who have since made a significant investment in every aspect of the business.
This has included the course maintenance equipment fleet, to get the course back into better shape and improve standards across the board. As a result, the greens are now considered to be among the best in the county and the presentation of the course is first class. Most holes have seen significant changes, with improvements to the fairway definition, bunkers, tees and greens, and a new 160-yard par 3 7th hole being developed.
The club has steadily replaced its previous, ageing machinery fleet over the last five years and invested in new John Deere machines from the Masons Kings outlet at St Columb. In addition to the 2750E, a new pedestrian Aercore 800 aerator was delivered to the club following an end of year demonstration, "...just in time for Christmas!" says dealer sales consultant David Barnes.
Summer 2020 also saw the arrival of a 7700A PrecisionCut fairway mower, following two 220SL walk-behind greens mowers in 2019 and a 9009A TerrainCut rotary rough mower, 4066R compact tractor, ProGator utility vehicle and 8800A TerrainCut mower spread over the previous three years.
"We are continuously investing in John Deere's latest golf equipment and precision technology as we aim to be the leading supplier of machinery and product support for golf courses across the south-west of England," adds David Barnes. "The Point at Polzeath was the first club in our area to buy the new 2750E, and we are confident it will do a great job across the course for Tom and his team."
Tom Collings came to The Point from nearby Trevose in 2009 and has seen the change of ownership breathe new life into what at that time had been a struggling business. "The owners believe if you're not moving forward, you're going backwards, so they've continued investing as far as possible, even during the pandemic," he says.
"We bought the 8800A outright back in 2016 as part of the initial machinery investment, but since then we've taken all the mowing equipment on a five-year finance lease arrangement with John Deere Financial. We've continued to buy the tractors, utility vehicles and hand mowers, as these tend to last a lot longer if you look after them well, although it always depends on the owners' preference each time.
"I also have a good relationship with David Barnes and parts manager Rob Blundell at Masons Kings," adds Tom. "They have always been very helpful and accommodating, even before we started buying more John Deere equipment, and have helped me out many times by supplying parts for our older kit, for example – so in a way it's been our turn to repay the favour with these latest purchases.
"I first saw the 2750E on social media after it was launched at BTME, and then John Deere invited me to visit Wentworth. Territory manager Nick Ashman talked about the changes the company had made to the mower and the benefits it could offer, so I was keen to have a look at it working on our course.
"Masons Kings arranged a demonstration here and after cutting the first green I was completely sold, I just found it a totally different experience to any previous mower. Given how it handled and coped so easily with the conditions around the course, the decision to buy one was a no-brainer – it was just the mower I wanted."
Photo caption:
The Point at Polzeath's head greenkeeper Tom Collings (right) with dealer David Barnes of Masons Kings and the new John Deere 2750E hybrid mower.
Posted: 04/02/2021
New deal signed with world-famous Championship club

Trust, support and understanding, are three vital qualities for a successful relationship, and in the case of Royal Dornoch, Toro and Reesink, it is a combination that has worked exceedingly well for 25 years. Now it is set to last a lot longer too as the club signs an exclusive supplier agreement for another ten years.
In an uncertain climate, one thing general manager Neil Hampton at Royal Dornoch in Scotland knows with certainty in choosing Toro again, is that quality and consistency will continue, which for a Championship course is non-negotiable. He says: "Regardless of what is going on in the world, one thing that has remained the same for 400 years is our dedication to providing our members and players with golfing excellence.
"Toro is tried and tested on the remote links landscape here and we see no reason to change that especially when Toro's dedication to innovation and technology stills leads the way."
Neil refers specifically to the four Toro Greensmaster eTriFlex 3370 electric greens mowers included in the club's latest order: "As a club, it's very important for us to be as green as we can as often as we can. The team tried the electric greens mowers in a demo and were unanimously impressed, plus you know with Toro that any new machine has been tested to the nth degree. There were absolutely no negatives in choosing these electric machines to take over the important frontline mowing on our greens."
Continuing the green theme in the rest of the order are four of the environmentally-friendly hybrid Reelmaster 5010-H fairway mowers and eight electric utility vehicles, the Workman GTXe with lithium-ion battery. Neil says: "Our greens and fairway mowers are used a lot and it is of the utmost importance that they perform to their best at all times. We've never noticed a difference between the environmentally-friendly machine option or diesel, apart from the obvious noise and fuel mess.
"We have a fantastic relationship with Reesink in that they understand how we work, what works best for us and what we want out of a deal. For example, we have a great system for the replacement and buy-back of our used machinery. Our used machines have a lot of life left in them and it's only right that they go on doing a great job somewhere else."
Heading into 2021 what does Neil see on the horizon? "Looking at the positives from 2020, the year Royal Dornoch got voted as Scotland's Best Golf Course by the World Golf Awards, the break from play during growing season has given the course an unexpected rest, there's been little to no wear and tear and it's looking and playing wonderfully. The team had the chance to undertake jobs such as overseeding that you wouldn't normally do in the peak season and it means we go into 2021 with the course in the ultimate shape.
"With international travel hopefully opening up earlier than expected perhaps in the spring, it means our 700 overseas members can resume their play here which will be fantastic. In the meantime, we've always been proud to be a course accessible for all. For 400 years our doors have been open to everyone and in 2021 that will be hugely important; we all know the huge benefits a round of golf can bring."
And with Toro aiding the 19-strong greenkeeping team in tending the 36-hole course means it will provide the best possible environment, not just in terms of its beauty and playability, but its carbon footprint too. The future is decidedly green at Royal Dornoch!
To talk to someone about Toro's electric machinery, packages and payment options available and how the Toro range would suit your course, call 01480 226800.
Posted: 10/01/2021
Toro at the Fore for Two Golf Clubs
Allerton Moore Toro Fleet.
More Toro to support continued development in the North West
Green Circle Leisure is bringing in more Toro to keep standards high as it embarks on the next stage of development across two of its clubs in the North West.
For five years, Toro machinery has been at the forefront of Green Circle Leisures' investment in Allerton Manor Golf Club in South Liverpool and Sherdley Park Golf Club in St Helens, Merseyside. Now with both clubs having made great progress, two new Toro Greensmaster 1000 walk behind cylinder mowers have been bought in to provide the best possible maintenance for the new turf across the new greens and tees of Sherdley Park.
In 2015, Green Circle Leisure, the official golf operating partner with Liverpool City Council, purchased a fleet of Toro machinery from Cheshire Turf Machinery in Stockport, as part of the reinvention of Allerton Manor Golf Club. The company's excellent relationship with Cheshire Turf Machinery, and the reliability and quality of Toro machinery, led to Green Circle Leisure purchasing additional Toro machinery for Sherdley Park Golf Club in 2018, after becoming the operating partner of St Helens Council.
Steve Halley, managing director at Cheshire Turf Machinery said: "It has been a pleasure to work with Michael Hanlon, chief executive at Green Circle Leisure, and his team and witness the transformation of the golf courses and facilities in their care. Since 2015, as well as investing in new equipment, Green Circle Leisure has moved to protect that investment by confirming maintenance programmes with us on all their machines, helping to ensure the continued improvement of the golf courses."
Director of golf, Bryan Joelson-Mulhall explains: "Over the past few years we've invested in both Allerton Manor and Sherdley Park, with our goal from the start to provide facilities as good as or better than private members clubs, while staying affordable and accessible to the whole community. In order to continue making improvements to the courses in line with our goals, we need the best machinery. And having the best machinery means Toro.">
A number of improvements have already been made to both clubs, with more on the way as the redevelopment continues, and this led to Green Circle Leisure to add to its Toro fleet with the purchase of two Greensmaster 1000 walk behind cylinder mowers for Sherdley Park.
The Greensmaster 1000 is ideal for greenkeepers needing an efficient and easy to operate walk-behind mower that delivers an excellent quality of cut. The front weight bias offsets the operators natural tendency to place weight on the handle, allowing the reel to better follow ground contours for a consistent cutting height, plus it is uniquely weighted, front to rear, providing greater turf penetration.
"We're working to make Sherdley Park an all weather course, suitable to play year-round," says Bryan. "So that means new greens, new tees and new bunker systems. We needed high-quality walk behind mowers for the maintenance of new turf as it grows in, and the Greensmaster 1000 is perfect for that."
And with planning permission approved for the next phase of work at Allerton Manor, it certainly seems like its fleet of Toro machinery, which includes two Greensmaster 1600s, two Greensmaster 1000 pedestrian mowers, a Greensmaster TriFlex 3400, a Reelmaster 5510-D, and two Groundsmaster 4000-D machines among others, will be put to work over the next couple of years.
"We're going to be turning the course at Allerton Manor from a par 67, to a par 72," says Bryan. "That's alongside a brand new golfers pavilion, adventure golf course for families, a driving range, hotel and spa and a new greenkeeper compound."
Richard Shields, Allerton Manor head greenkeeper said: "We are always looking at how to improve the courses, and Toro does a fantastic job keeping standards high and improving the quality of the course. We don't hesitate to bring in more Toro when needed as we know the importance of having reliable, quality kit.
"Since 2015, Toro machinery, the after-service care from Cheshire Turf Machinery and Reesink Turfcare and the feedback from the team have all been good, so we've no plans to change a winning formula."
Posted: 10/01/2021